Late Fall Intramurals Have Begun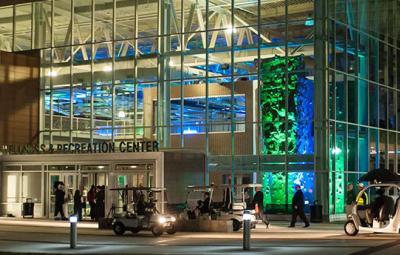 By: Mallory Ambrose
GC's late-fall intramurals season kicked off this past month on Oct. 12. The season has been modified to fit the CDC Coronavirus guidelines with the addition of new activities, sports, and some favorites noticeably absent from the schedule.
"We started the season on Oct. 12 and finished the regular season Sunday, Nov. 8," said Drew Bruton, associate director of wellness and recreation. "Monday, Nov. 9 we will start two weeks of playoffs and conclude before Thanksgiving."
With 90 leagues and over 20 activities and sports offered across mens, womens, co-ed, and single-player teams, GC intramurals are one of the most widely participated programs on campus. This season trivia, ping pong, pickleball, and horse are being offered for the first time.
"This year we have more total teams but less students participating," Bruton said. "We currently have over 900 students participating this fall and usually have between 1800-2200. The team numbers are higher because for the sports we offer, the number of players on a team is reduced."
Due to COVID-19, this season looks a little different with special precautions put in place to reduce contact and exposure amongst the players. The sports offered adhere to safe social distancing, and masks are required at all events. Any equipment used by those participating is disinfected following CDC COVID-19 prevention guidelines.
"The only two sports we are currently playing that we played last year is kickball and spikeball," Bruton said. "We normally have flag football, soccer, basketball, and ultimate Frisbee during this phase. Those are all sports that have contact so we avoided those sports to offer safer sports for our students."
Students who avidly take part in the intramural leagues every semester are happy that the much-awaited season was not canceled indefinitely. With contact sports competitions like flag football and ultimate Frisbee having been eliminated from this season's schedule, those participating share different feelings about the changes made.
"I have been disappointed that softball and football haven't been able to be played," said Jared Evon, senior MIS major. "I feel that everything has been somewhat of an overreaction."
"I think we all expected that things would be a little different," said Mitchell Tingle, athletic chair for Pi Kappa Alpha and sophomore biology major. "I knew that the sports were going to be different than they usually are, but playing trivia and ping pong this season has actually been pretty fun. Things like having to wear a mask and the cancelation of any contact sports for safety reasons are really the only changes that have been implemented."
Visit the GC intramurals home webpage or contact Intramural & Club Sports at 478-445-0664 to learn more about upcoming events and activities offered. All GC students, faculty, and staff are eligible to participate. To get involved, players can purchase a $10 Player Pass through their IMLeagues account. This is a semester-long pass that gives students unlimited access to join and create teams for all activities and sports offered in GC's intramurals league.