The '90s are back!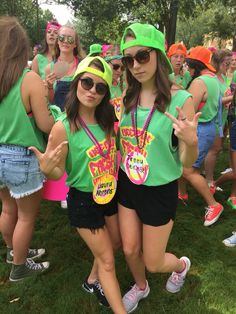 Kaitlin Eastin
GC students are hanging up their low-rise jeans, skin-tight shirts and eccentric prints in exchange for the 1990's most notable fashion pieces and accessories.
"Fashion in the early 1990s was generally loose fitting and colorful," according to RetroWaste, a database for all things vintage. "Unless you were going for the grunge look, then color was the enemy."
An everyday outfit in the '90s could be styled with scrunchies, overalls, band t-shirts, turtlenecks and baseball caps. Jeans were often tapered and tightly-rolled at the bottom for comfort and flair.
In the early '90s hip-hop artists defined fashion trends. 'Grunge' and 'untamed' were common adjectives applied to '90s style. The mid '90s became inspired by military and industrial designs. Camouflage pants and metallic accessories surfaced into street-style. By the end of the late '90s, designers reasserted their dominance in the fashion industry as trends began to favor glamour and labels again.
"In today's society, we are turning '90s fashion into something a little slicker and chicer," said Michala Hill,junior accounting major. "For example, you can wear chunky shoes, which is kind of '90s, and pair it with a crop top or biker shorts."
In Hill's closet, one can find loose-fitting, high-waisted boyfriend jeans, an original Levi denim jacket, black and white All-Star converse and scrunchies. Hill often combines her '90s inspired pieces with her current 2020 style.
Hill's favorite way to modernize a vintage outfit is through hairstyle. She often puts her hair in a low, slicked-back ponytail to transform and update her look.
"'90s fashion is simpler," said Hill. "The layers, the jeans, the converse, you always know it's going to look good, and it's not super busy."
GC students appreciate the authenticity and originality '90s style brings to their wardrobe; the vintage fashion trend is a relatively inexpensive way for students to express their personality through clothing.
"I wear vintage clothes because I like the appearance and it is much more affordable than labels," said Nick Brooks, junior marketing major. "The designs are cool, and no one else has them, which is probably the number one reason I love my thrifted clothes."
Brooks' '90's style clothing brings confidence and uniqueness to his style. His vintage pieces remind him of his favorite '90s band and draws him closer to their music.
After sifting through clothing racks at Plato's Closet, Urban Outfitters thrift stores and old closets at home, students sporting staple pieces of the '90s can't help but catch the eye of GC faculty.
"I all around think it's a good thing and it makes me happy," said Amanda Respess, Senior Lecturer of Mass Communication. "At first I was like, 'Oh, I'm old', but now I'm like 'Maybe I was cool!' Maybe I can bust out some of my old stuff."
Respess enjoys watching students don the fashion from her high school years throughout campus. She remembers replicating her parents' fashion styles from the 1960s when she was younger. As long as vests don't make a comeback, Respess will continue to support the revival and transformation of the '90's style. To her, fashion is recycling trends and combining them with newer ones.
It's been 30 years since the decade started, but that hasn't stopped iconic '90s looks from resurfacing, proving how the decade revolutionized the fashion industry.