The Debunkers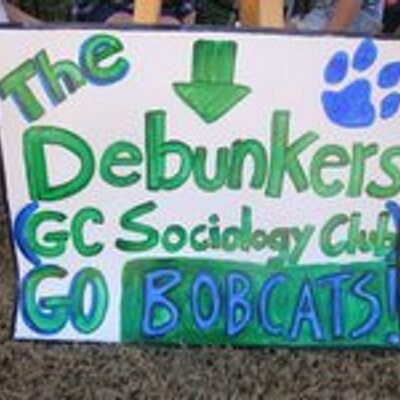 Charlotte Joiner
The Debunkers are a nonpartisan student organization and the latest to join the ranks of other groups like The College Democrats of America and College Republicans.
Along with the pandemic we are living through, the thought of dissecting the history of both candidates can have a negative impact on students. According to their site, the Debunkers are watching this election closely, and welcome non-majors to their academic support and sponsored social gatherings.
This year's election has had a record number of people registered to vote, with approximately 255 million people eligible to vote this year. As of October 28, more than a third of registered voters, over 75 million Americans, have already cast their ballots.
But what does this mean on a smaller scale? In an informal poll conducted via my Instagram story, 64% of the approximately 700 respondents aligned with the Republican party while 36% aligned with the Democratic party.
The Debunkers, a non-partisan sociology club at GC, is emphasizing why it is critical to vote.
"As sociology majors, we learn about people, race, gender, and how these affect each other and the world we live in," said Elizabeth Dunn, a member of the Debunkers. "We can get a say with what policies and beliefs we want the leader of our country to have through voting. At its core, it is our ultimate civic responsibility."
"We feel confident in the future of our country as long as the constituents of the United States are those that get to participate in the formation of it," Dunn said. "Our democracy is very important and should be protected. As long as Americans band together and fight for each other, regardless of race, ethnicity, national origin, religion, sexual orientation, gender expression, or age."
GC has other student organizations too, ranging the political spectrum. This includes the College
Democrats of America, designed to promote the Democratic party. According to their site, the College Democrats of America help with voter registration, mobilizing activists, and engaging local and state governments.
College Republicans are another viable student group on campus. In addition to similar duties as the College Democrats of America, College Republicans at GC strive to bring youth-oriented issues to political discourse, according to their site.
With current political trends, voters can expect interesting election results. Though the pandemic has divided the nation physically, now is the time to have your voice heard and to cast your vote.
In the same poll as previously mentioned, respondents were granted anonymity in exchange for their political thoughts. Some said that they simply want President Donald Trump out of office.
Others believe Joe Biden is not fit for office.
"I vote blue for LGBTQ+ people, bipoc, the uninsured, immigrants, and to preserve the planet," a student said. "I believe that all human lives hold a unique and inherent value and should be allowed an equal and celebrated voice in our country's narrative. I vote blue because I believe racism is a real issue in this country and Black lives do in fact matter and our country's criminal justice system requires a substantial reform."
"A vote for blue kills laissez-faire and free enterprises," another student said.
With a large pool of responses, it is clear that this generation is motivated to vote, either in person or by mail.