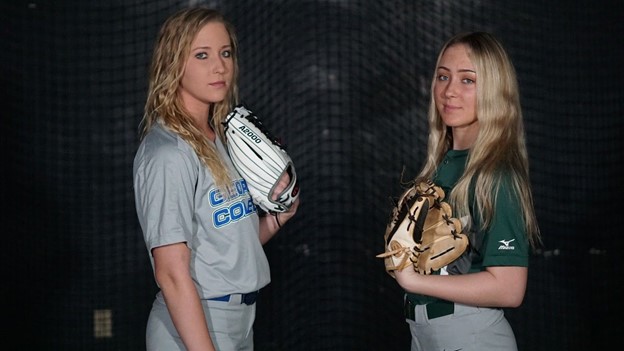 There are currently two pairs of identical twins on two different GC athletic team rosters. Juniors Alyssa and Alexis Bergamini are on the soccer team, as well as sophomores Kelsey and Ashley Schell on the softball team.
Growing up with a twin is filled with tons of advantages. Many people associate twins with a lifelong companion, competitor, and friend. In the sports world, it's evident that growing up with a sibling creates a competitive edge within the family, and when they're the same age, it makes it even more fascinating.
"It does help," Kelsey said. "Skillwise too, because if she's doing bad I'm not scared to tell her 'hey fix yourself' and some people don't have that kind of help."
When growing up together, there's no one that knows their tendencies and strengths and weaknesses better than each other, and that's when they're capable of balancing out each other's strong points.
"It's like a built in partner," Ashley said. "You can always practice with them, ask them for advice… We both are better at different things."
When speaking with the Bergamini twins, they seemed to have a similar experience so far. While softball isn't their sport, the same aspects of growing up with a lifelong side-kick still seem to apply on the soccer field. When on the field together, there's almost some sort of instinct connection after playing side by side for so long.
"I like it because I can just know where she's gonna be, and we just have a connection type thing," Alexis said. "I can definitely tell a difference when playing with a teammate than with Alyssa, and we definitely get more aggressive towards each other about messing up or anything."
"We always tried to be better than one another, so it's like we always had that constant competition so that helped," Alyssa said.
While growing up with each other and having that familiarity is certainly a strong positive aspect, there's still a curse with every blessing. Walking side by side with a twin creates little room for individuality according to both pairs of sisters, oftentimes sharing similar emotions for each other's performances.
"People always think it's all positives but there are some negatives," Kelsey said. "Like if for some reason if I was screwing up a lot, she's in my corner too being like 'why did you do that, you don't play like that, c'mon'".
"We're constantly compared, and people don't see us as individuals, and then you grow up and realize that we're two different people," Ashley said. "But if she hits a home-run and I don't, it's gonna be a bad night".
The Bergamini twins hail from Suffield High School in West Suffield, CT. They both play forward while Alexis occasionally plays midfield.
The Schell's went to West Forsyth High School in Cumming, GA, and are actually triplets, however the third sibling, Logan, is a marine, soon to deploy to Japan alongside their oldest brother who is also a marine deploying to Japan.