GC Basketball Star Shines On and Off the Court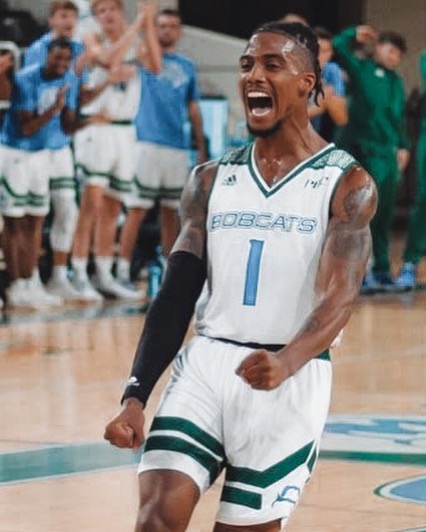 Jordan Thomas has produced one of the most successful athletic careers in recent GC history.
The men's basketball star has cemented himself as an amazing talent through his first three years of college. Averaging over 19 points per game through his last two seasons, Thomas made consecutive appearances on the All-PBC Second Team.
Despite his athletic accomplishments, Thomas has not limited himself to on-court success.
While the COVID pandemic may have given him a temporary life without basketball, the shooting guard heads into his senior year on the heels of a new clothing business he started last July.
Thomas has created a fitness apparel clothing line called 1of1. He initially began selling comfortable products such as track suits, sweatpants and hoodies.
However, he hopes to expand his selection of products by rebranding the business as a broader sportswear company, rather than focusing so heavily on fitness apparel.
"Eventually, I wanna start selling things like arm sleeves and leg sleeves," Thomas said. "The same kind of stuff that Nike or Adidas would sell. I don't want to put myself in a box of only fitness items."
Thomas often proves himself through hard work and self-motivation, no matter when and where his best effort is required.
After winning PBC Freshman of the Year in 2018, Thomas has improved his scoring each season. He led the Bobcats to a final four finish in last year's PBC tournament after experts pitted them to miss the conference tournament completely.
Thomas has also impressed in the classroom. The exercise science major earned the PBC Presidential Scholar Award in 2019, and he was an Honor Roll student in high school.
Through his recent business endeavor, Thomas' diligence has once again paid off. His entrepreneurial energy has received a lot of support from his teammates.
"A lot of the guys on the team got a shirt or some sort of product," said teammate Wesley Simpson. "I feel like it's a good way for him to make money and a good way for us to show him support in this part of his life."
Thomas and his teammates will look to maintain their support on the court in the upcoming spring semester.
Looking ahead to his final season of college basketball, Thomas expects great things from himself and his squad.
Although he made an All-PBC team last season, the talented scorer felt the voters snubbed him from the All-PBC First Team. Thomas holds lofty standards for his farewell campaign.
"My goal is to win PBC Player of the Year for sure," Thomas said. "From the first game to the last, I've got to be the most consistent I have ever been."
After scoring 580 total points last season, Thomas needs just 411 more to break the all-time GC scoring record. He also needs 48 three-pointers to break the school record in that category.
Thomas joins elite company with over 1,500 career points, over 500 career field goals, and almost 200 career three-pointers.
While Thomas maintains strong ambitions to play professional basketball, he still hopes to continue his journey as an entrepreneur.
"My plan is to get an overseas contract but bring my business with me," Thomas said. "I wanna grow it however I can. I don't wanna limit myself to pick one or the other when I feel like I can do both."
The motivated senior holds high expectations for the future. Thanks to his undying strive for greatness, it seems Thomas awaits even more success.