Baldwin County Walks in Honor of Breast Cancer Awareness Month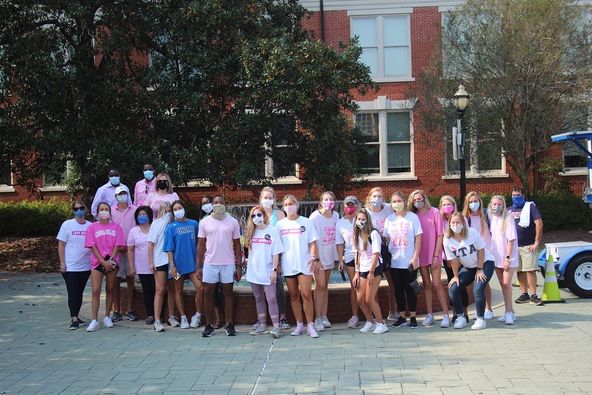 I Love my Boobs!
By: Kristen Maddox
Not a cloud in the sky, the sun beating down hot on our cheeks, everyone kicks off the Breast Cancer Awareness Walk by saying as loud as they can, "I love my boobs!"
To raise awareness and promote education about breast cancer, the GC Center for Health and Social Issues (CHSI) partnered with Live Healthy Baldwin for an afternoon walk Tuesday, Oct. 13.
"There's plenty of girls that I'm close friends to, in our sorority and outside, that have been affected by breast cancer," said Emma Dietz, junior art major. "I walk for them, and I raise money for them, even though it doesn't affect me super personally."
According to Catherine Woodall, graduate assistant for CHSI, the public health groups used the walk, and later pamphlet campaigns downtown, to emphasize free or reduced care Baldwin women can receive for breast cancer screenings.
"It's always something that I guess I've taken for granted is having access to the healthcare I've needed, or that my parents were able to provide for me," Woodall said. "And once I've started this journey in public health, I realized that that's not always the case."
The walk, starting at the GC Make a Wish Fountain, included ZTA sorority members, CHSI graduate students and director Damian Francis, Baldwin Health Department staff and other men and women showing their support for breast cancer survivors.
"So my grandmother is actually a breast cancer survivor of 11 years now," Woodall said. "She never missed a soccer game or any type of sporting event for me or my sister's, awards days, ceremonies, graduations, and the only time she ever missed some of those things was when she was going through chemotherapy."
The walkers traveled from the fountain toward Beeson Hall, following predrawn chalk arrows on the ground. They were quiet, chattering amongst themselves, wearing masks and mostly socially distant.
As we walked past Beeson Hall and along Montgomery St, walkers pointed out signs lining the route. Each sign focused on a GC faculty member participating in the "I Love My Boobs" campaign, and were created to spread awareness among target populations, Woodall said.
We turned right to pass Health Sciences and Porter Hall, and reentered the main campus between two brick columns. Walkers talked about their experiences, daily lives and the heat.
We eventually came to the GC Pergola, and walked underneath it to the fountain, where participants posed for a group photo and giggled through saying "I love my boobs!" on three.
"I like the idea of a statement like that," Dietz said. "Screaming things like 'I love my boobs' like that makes people look, that makes people notice, and it brings attention to it."
Before and after the event, walkers honored survivors and those they had lost by writing their names in chalk around the Make a Wish Fountain.
Breast cancer is the most common cancer diagnosed in women in Georgia, according to the Georgia Department of Public Health's Cancer Control Consortium.
For inquiries about free screening or to find screening locations, call the Baldwin County Health Department at 478-445-4274 extension 4. There is also a Susan G. Komen Breast Cancer Helpline at 1-800-GO KOMEN.
Those unable to be screened regularly or looking for information about breast self-examinations can find pamphlets at Georgia Department of Health locations and instructions online at the National Breast Cancer Foundation website.