Flu Season: The Vaccine and How It's Made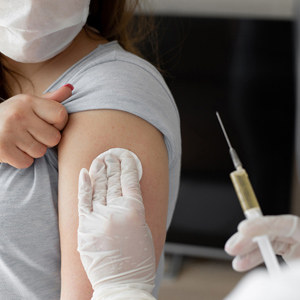 Kaitlin Eastin
In the midst of a pandemic's uncertainty, the CDC highly urges all persons to receive their flu vaccine, pushing GC students to be better prepared for the upcoming flu season.
"Getting a flu vaccine is more important than ever during 2020-2021 to protect yourself, your family and your community from the flu," according to the CDC's 'Influenza (Flu)' webpage. A flu vaccine this season can also help reduce the burden on our healthcare systems responding to the COVID-19 pandemic and save medical resources for care of COVID-19 patients".
Due to the pandemics' stay-at-home and shelter-in-place orders, 2020's routine vaccinations and immunization services decreased. The CDC encourages all persons to safely and cautiously seek and receive the flu vaccine now.
The flu vaccine is a preventative measure to stop the spread of influenza virus. Although a COVID-19 vaccine is unavailable, it is known that both coronavirus and flu are contagious respiratory illnesses and dangerous.
"Flu and COVID-19 can both result in serious illness, including illness resulting in hospitalization or death," according to the CDC. "While there is still much to learn about COVID-19, at this time, it does seem as if COVID-19 is more deadly than seasonal influenza; however, it is too early to draw any conclusions from the current data."
The CDC reports that flu vaccination decreases severe illnesses resulting in hospital visits, lessening the burden on healthcare workers and further reducing exposure to COVID-19.
"Yes, I have gotten my flu shot," said Paige Howell, a junior nursing major. "Since I am starting clinicals, beginning work at the hospital, and being surrounded by the patients and things of the hospital, it made me want to get my flu shot even more this year."
In preparation for the flu season, the hospital administration strongly encouraged Howell, her classmates and the other hospital employees to receive their flu vaccine. It is important for healthcare workers to take the proper precautionary measures to protect themselves from the dangerous viruses and diseases they encounter at work.
Working in a hospital with COVID-19 patients, Howell is thankful for the flu vaccine. It provides peace of mind and security against the flu, which is currently unavailable for COVID-19.
"I think that COVID is so scary," Howell said. "We don't have anything like a vaccine to take the scariness away, and with the flu we do. When we get the flu shot, it is kind of a relief."
Some GC students, who previously did not believe in the flu vaccination, are changing their minds this season.
"I think this flu season scares me a bit more," said Michala Hill, an accounting major. "So, I have considered getting my flu shot this season because I know the risk is bad if you get the flu and COVID at the same time. That's double the risk on your respiratory system."
Hill has never received a flu shot; however, the uncertainty created by COVID-19 in 2020 further influences her to make a change. Previously deterred by her lack of knowledge surrounding the flu vaccine, Hill is looking into researching and learning more about the vaccine.