Hot Dog Stand, First Taste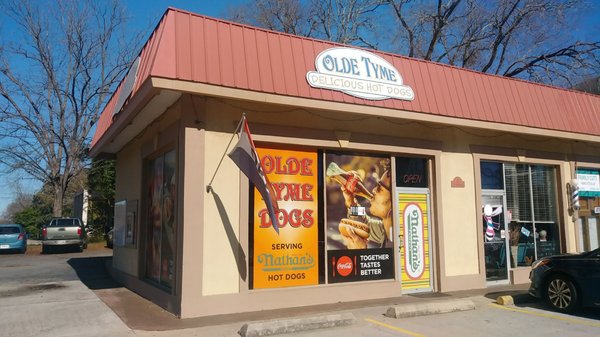 Hot dogs — a true American delicacy. Across the country, hot dogs are one of the most consumed food items year-round. Milledgeville's own Olde Tyme Delicious Hotdogs has crafted the perfect menu of specialty hot dogs.
The old school fast food joint is located on the corner of West Montgomery and North Columbia Streets, and may seem like just another pop-up restaurant to passer-bys. But, the inside has a true 70's diner feel to it.
Brandi Faulk, the store manager, takes pride in the originality of the restaurant.
"It's Olde Tyme, so we try to incorporate elements from the 70's with how it looks on the inside and how we serve everyone," Faulk said.
Sydney Parrish, a senior business management major, decided that after three years in Milledgeville, it was time to see what the hype was all about.
"I have lived across the street for a couple of years, but never took the time to go," Parrish said. "I really feel like I've missed out, because this was one of the best places I've eaten in Milledgeville. The food came out quickly, and the workers were kind and personable."
The owner was outside cooking hot dogs on the grill when Parrish arrived. Parrish ordered the infamous Pimento Dog, which came out quick and hot off the grill.
"I loved the Pimento Dog, and I'm honestly not even a fan of Pimento Cheese," Parrish said. "I've heard people rave about it, and they were not wrong. The bun was toasty and the hot dog was cooked to perfection. Next time I want to try the Cheesy Dream Dog."
The inside has diner-like seating, including a wrap around high-top table and barstools. A drive-thru is located on the side for customers on the go.
"It's definitely a great place to grab a quick bite to eat," Parrish said. "There are so many options on the menu so that you can switch up your toppings and not get sick of it."
While Olde Tyme Delicious Hotdogs specializes in their variety of dogs, the restaurant also sells many sandwiches and sides. The sandwich menu ranges from hamburgers and barbeque to chicken salad and pimento cheese sandwiches. The joint offers sides of brunswick stew, chili cheese fries, nachos and more.
"I love walking by after class and getting a chili cheese dog," said Olivia Reardon, a senior exercise science major and marketing minor. "I've had their pimento cheese burger and chicken salad sandwich and they are just as good as their hotdogs."
Aside from the food, the price is a favorite among college students. A combo, which includes a hot dog, chips and a drink ranges from $5.50 to $7.00.
The hot dog joint continues to keep their faithful regulars hooked, but Faulk stated that they are trying to reach out to college students and greek life in the community to grow their social media following.
Olde Tyme Delicious Hotdogs is located at 421 W. Montgomery Street, and is open from Tuesday-Saturday from 11 a.m.- 5 p.m.