Former GC Soccer Star Continues Career in Iceland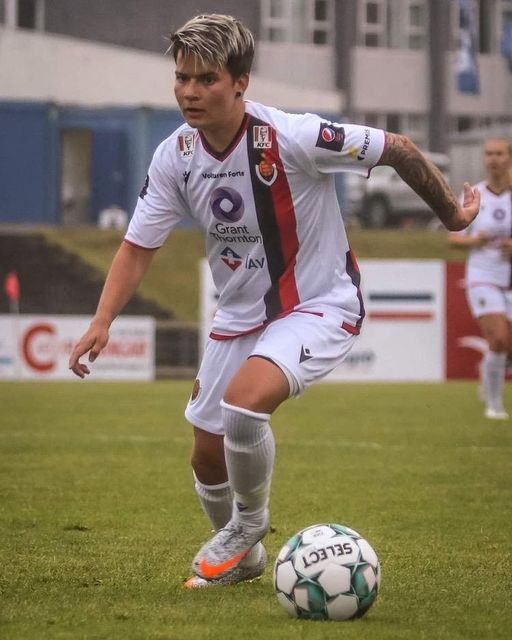 GC women's soccer alumni Unnbjorg Omarsdottir may have graduated in 2019, but that hasn't stopped her from playing the sport she loves.
Omarsdottir, who goes by the nickname Uno, currently plays semi-professional soccer in her home country of Iceland. She plays for a team called FC Vikings.
The Iceland native came to Georgia College in the fall of 2015. Having grown up as a goalkeeper, Uno transitioned to a midfielder role.
Starting her GC career as a forward/winger, she eventually finished her collegiate career starting at left back for the team.
Now she plays left back for the Vikings, and she embraces her ability to fill in as a backup goalkeeper in special situations.
"Being versatile is definitely the biggest strength of mine," Uno said. "It gives so many more options to my coach. If he needs to switch strategies during the game, I can be a forward if he needs it, or he can put me in the back."
Uno's impressive speed and athleticism allows her to excel in so many different positions. The Icelandic talent boasts an aggressive brand of soccer, no matter where she plays on the field.
She also boasts some incredible achievements from both her time in Iceland and in Milledgeville.
In 2011, Uno received a bronze medal in a fourth place finish to Germany in the Euro U17 Finals Championship. She also won back-to-back Best Player awards during her time with her Division 1 Senior team in Iceland.
During her GC tenure, she made the 2017 All-PBC Second Team and was a two-time PBC scholar athlete.
Current women's soccer head coach Tinna Gallagher was the assistant coach in 2015 when she recruited Uno. Gallagher hails from Iceland herself, so it did not take long for the two to develop some great player-coach chemistry.
"I went to the U.S. when I was 20 and got a soccer scholarship, so I knew what she was going through," Gallagher said. "There was obviously no language barrier, and we connected in a lot of different ways. I was able to sort of be a mom away from home for her."
Gallagher called her the "perfect fit" for GC soccer as their left back. Her blend of speed, aggression and fitness allowed her to gel quickly with the team.
Her strong relationship with Gallagher helped Uno to grow into the player she has become.
Although COVID delayed her season with the Vikings on several occasions, Uno has focused on other important priorities outside of soccer.
She works at a daycare in Iceland, and she recently began studying for her Masters degree.
While she loves being back home, Uno still cherishes her time at GC. She reflected upon some of the differences that came with playing in the United States.
"The experience felt more like I was part of a family," Uno said. "It was different from just being a member of an athletic club in Iceland. The family aspect is not as strong as what is in the U.S. and at the school."
Uno misses her GC teammates and coaches, as well as the athletic training staff. They surely miss her as well.
With her dream of a professional career well within reach, Uno simply chooses to take it one day at a time. Happy with her current situation, the talented GC alumni will continue to work on her game and her studies at home in Iceland.
Although her time with GC soccer has ended, a new chapter for Uno has just begun.