GC Art Students March on Campus Against Hate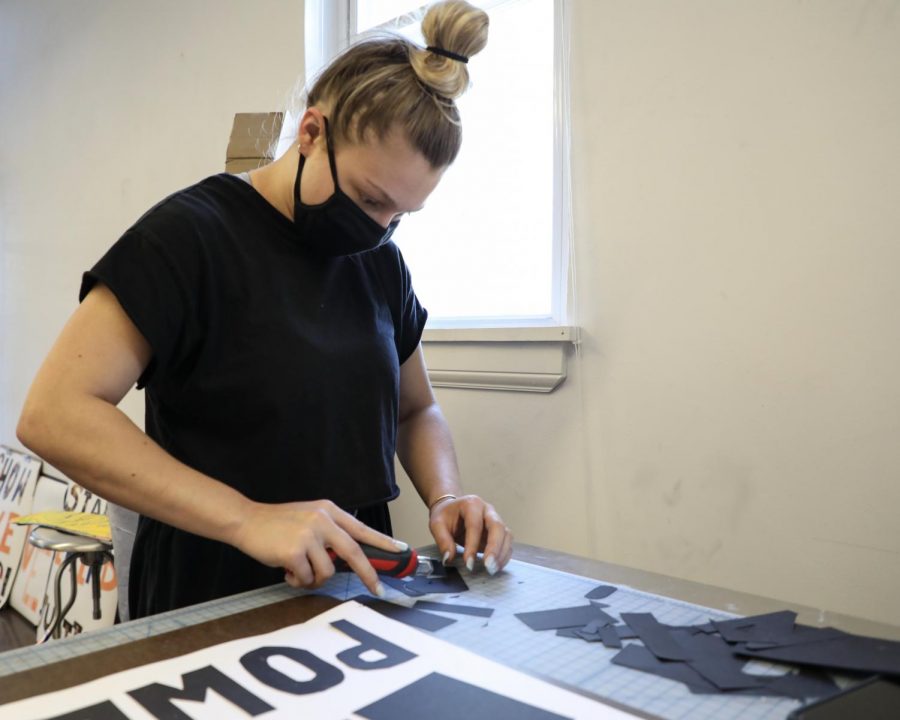 Jessica Gratigny
An Artists Unite Against Hate protest marched through the GC campus with handmade signs reading messages of equality and love on Wednesday, Sept. 30.
"Art has long been used as a way to bring ideas to the public attention partially because we have empowered ourselves with tools and techniques to make our ideas visual," said Sandra Trujillo, a GC professor of ceramics and drawing.
Trujillo assigned the march to her Drawing I class to emphasize the power of student voice. Her students focused on unity and design by creating their own signs small and large out of hand cut letters glued to paper.
Trujillo and her students began the protest at Ennis Hall and made their way throughout campus. As they paraded their handmade signs by front campus, the Arts and Sciences fountain and the old courthouse, groups of bystanders watched the class.
Some bystanders felt inclined to react to the protestors by waving and chanting phrases such as "we hate hate" and "Trump 2020." The march against hate ended back at the steps of Ennis Hall, where the class left their signs to be displayed.
Erin Hilburn, a freshman art major in Trujillo's class, felt particularly motivated to participate in the assignment.
"Georgia College has done a good job of being inclusive but a lot of the students aren't," Hillburn said. "I think it's important for students to show that we support diversity, and we want to be welcoming to people who are different than the stereotypical Georgia College student."
According to an article published in 2019 by Forbes, 82.7% of GC students identify as white. With such a noticeably low diversity rate, this can lead to a lack of diversity in other aspects of the community despite GC's initiatives to promote an inclusive campus.
"Yes, [GC] is a liberal arts university, but I think that sometimes students don't really participate as much as they could," said Jessica Deyo, a junior art major in Trujillo's class.
Deyo expressed her appreciation for the assignment as it helped her step outside of her comfort zone.
"I'm somebody who has very prominent beliefs but generally doesn't really express them to others," Deyo said. "You don't really know what to expect from other people especially with judgment and differing views, so it's hard to put yourself out there when you don't know what you're going to get back."
Through this Drawing I assignment, Trujillo wanted to give her students a chance to stand behind something they felt was important to them.
"Hopefully [the march] empowers other students to stand behind things they also feel strongly about," Trujillo said.