GC Website Redesign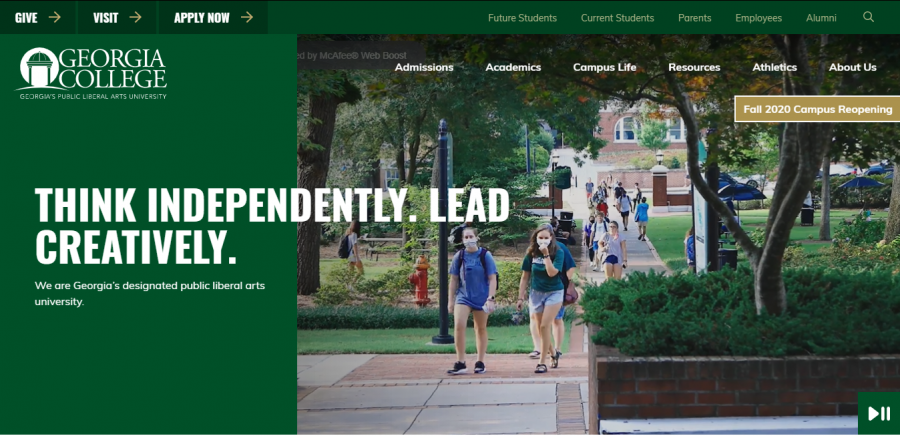 William Wren
University Communications and IT launched a new version of www.gcsu.edu Oct. 1. The updated site is the result of more than a year of research, design and development. The project was headed by Keely Hopkins, Director of Web Communications at GC.
"We like to refresh about every 5-6 years," said Hopkins. "We try to stay current with design trends." The main goals for the new website were to improve accessibility for students and faculty while transitioning to a new and pleasing aesthetic.
"One main goal for me early on was to get the new website WCAG certified," Hopkins said.
WCAG, the Web Content Accessibility Guidelines, provides standards for online content to ensure that a website is easily accessible for those with disabilities, unfamiliar with the internet or simply new to the site.
"I want someone who has never logged onto the website to be able to log on and get what they need out of the website," Hopkins said.
With accessibility and straightforward use being primary goals, Susan Kerr, GC's Chief Information Officer, Hopkins and IT focused on simplifying the website overall. The new gcsu.edu is simpler to keep up-to-date because of the site's renovations. Department heads in every branch of academics are able to easily update their page's information while maintaining the site's branding.
In the same spirit, mobile versions of the site are improving as well.
"We have gone to a more mobile friendly design that students and their parents use these days," said Kerr. Mobile support was a focus for the team due to the amount of traffic the website gets from mobile users.
In addition to technical support, the team also worked hard to integrate a design that exhibits GC's beauty and personality. "We've got a treasure in our college and the beauty of the campus and we really wanted to highlight that," Kerr said.
"Really, I just want any audience that sees it to be proud of it. I want them to go to this website and say, 'this is Georgia College,'" Hopkins said.
Hopkins' team worked closely with various focus groups over the course of the project to narrow down a design that best suits GC's communal personality and position as a brand. Showcasing students enjoying GC's beautiful greenery became a clear choice for advertising and branding.
With the site's massive undertaking complete, Hopkins' and her team are now integrating Unify and Paws to mirror the new webpage's aesthetic. Although they are not sure to what degree Unify and gcsu.edu will be linked, they are excited to see the finished product.
Hopkins sends special thanks to Kerr, Jamie Defoor, Omar Odeh, Communications and IT for all their hard work on this project. With the launch on Oct.1, Keely hopes that "our website will show that we are thinking independently and leading creatively."