Hazing Prevention Week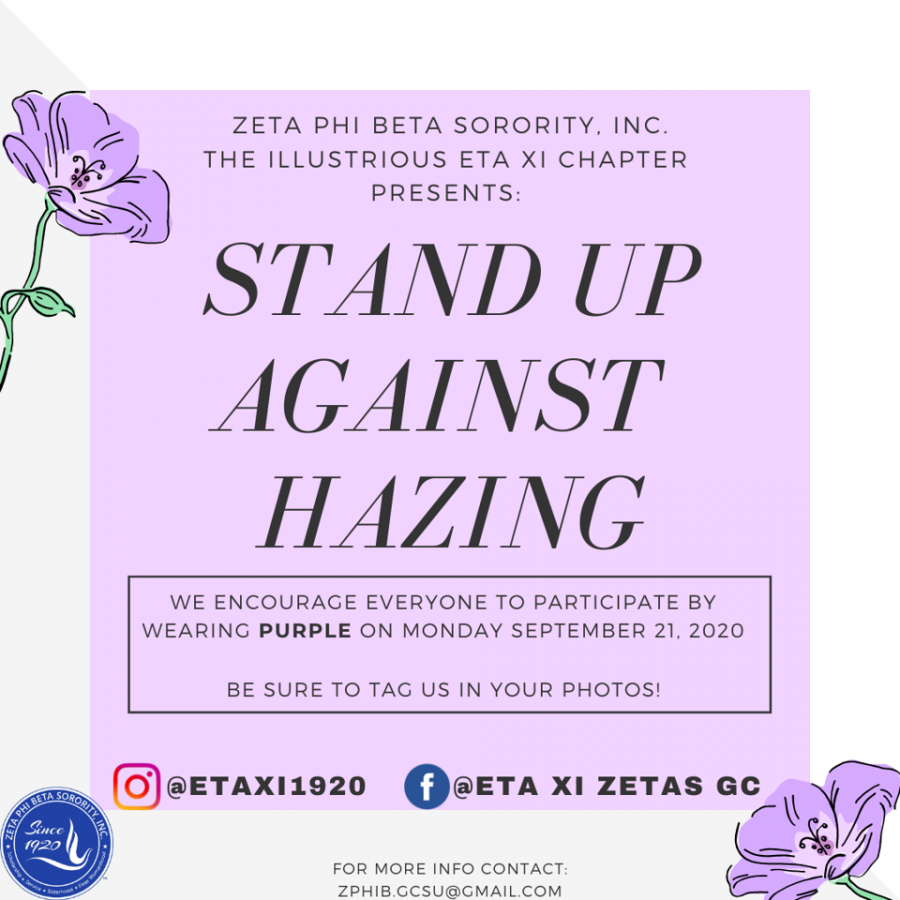 Bailey Ballard
From Plato to present, hazing then and now
Hazing Prevention week commenced on Sept. 21, HazingPrevention.Org™ is the sponsor and organizer of National Hazing Prevention Week which is held annually. GC sororities use this week as a chance to educate members on their opposition to hazing due to the traumatic effects it causes.
Hazing began in 387 BC along the founding of Plato's Academy. According to the book Wrongs of Passage: Fraternities, Sororities, Hazing, and Binge Drinking, during this time hazing was called pennalism.
According to Collin Dictionary, pennalism is a system of mild oppression and torment practiced on first year students.
"The idea behind hazing and that adversity brings a group together has no place in an organization, and it doesn't do anything but create a traumatic experience for everyone involved," said Nikki Adler, vice president of Kappa Delta.
Two types of hazing became prevalent in the middle ages, which continue to today, physical and psychological hazing.
Hazing has been known to cause many psychological problems. According to HazingPrevention.Org™ this may include depression, suicide, poor grades, withdrawal from activities, shame and even physical scars. Issues that misalign with Greek life's mission of community.
Due to the trauma and violence surrounding these types of hazing, it was later outlawed in 1993.
"There's no need for hazing to have a strong sisterhood or brotherhood, friendship and connection in an organization," Adler said. "That is why it is important to put a stop to it. No one deserves that kind of trauma."
Kappa Delta hosts a workshop every semester to teach about hazing and raise awareness. During hazing prevention week, the sorority publicly expresses their feelings through presentations and word of mouth.
Delta Gamma hosts seminars to discuss hazing, along with bringing in speakers to share their stories to inform the campus. During hazing prevention week, hazing awareness presentations
were hosted during chapter meetings. In addition, Delta Gamma has very strict rules regarding Big and Little week to ensure that no hazing occurs under this power dynamic.
"I believe hazing still exists on campus because it can evolve," said Natalie Miller, member of Delta Gamma. "Hazing to my mom was getting woken up early to fetch breakfast or being taken out somewhere, to us it is a violent thing, so hazing evolves overtime."
Both Miller and Adler said they believe hazing still occurs on campus, though neither could specify where.
Miller and Adler said that the best way to combat hazing is to educate students through speakers who can tell their stories and educational lessons throughout the year.
The administration could become more involved with Greek life on a personal level, Miller said. According to her, watching it more closely would defer hazing actions.
"Hazing can't just hide underneath the covers if there is an education," Miller said. "Educated people are going to be more ready to see it and also to stop it whenever they see it happening."