SAVING SPRING BREAK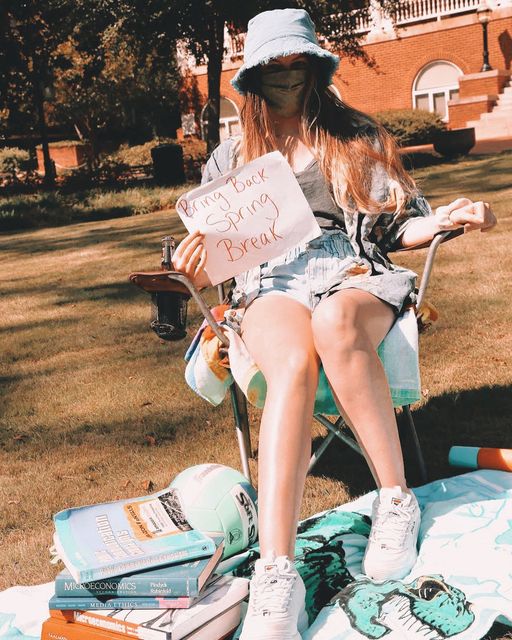 By Kaitlin Eastin
GC students stunned after hearing the news that their sacred spring break may be stripped away from the GC Spring 2021 Academic Calendar.
"I was honestly shocked," said Madelyn Cameron, a senior political science major. "I saw someone post on their Instagram story that GC was trying to take away our spring break. I know it's just a potential right now, but being a senior, I was just shocked that they would try to take away my last spring break."
With three years of college experience, Cameron knows how important weeklong break is for the sanity of GC students. It is a moment for students to catch their breaths in the middle of the semester and muster the motivation to persevere through the remainder.
"I think it would be a good idea to try petitioning for half of our week back," Cameron said. "I think that would resonate more with people of Georgia College. I think we should get at least half a week back and I would be willing to sign any petition that says that."
GC students reconfigure their personal and academic lives to abide by the school's COVID-19 guidelines. They practice social distancing, wear masks, and continue to learn how to succeed in a mix of hybrid and traditional classes.
In return for their cooperation, GC students ask the college to show grace on their student body. The stress of school and a pandemic is a lot to handle, and students are concerned for managing the next semester without a break.
"I feel like it's been a really weird year to begin with," said Kate Cunningham, a sophomore nursing major, "And to just not give students the breaks within the semester can be bad for their stress and mental health."
Some GC students plan to take their break whether it's written in the schedule or not.
"I've heard of a lot of students saying that they're just going to report COVID symptoms and then quarantine at the beach for a week," Cunningham said. "So, I think students are going to find a way around it and still get their spring break even if they have to do something like that."
While some students prepare to run away to the beach for a week, other students accept the cancellation and plan to use their vacation money elsewhere.
"When I heard the news that spring break may be cancelled, I was in disbelief," said Nick Brooks, a junior marketing major. "But I understand what needs to be done, but it sucks that we aren't getting a break in the middle of the semester."
To reduce the risk of influx COVID-19 cases, Brooks empathizes with the school's position on possibly cancelling spring break. Although abandoning the hallowed spring break week is disheartening, he looks forward to an extended Christmas break.
"I will honestly be spending that time and money somewhere else," Brooks said. "Probably on my awful online shopping habits."
Whether the beloved spring break is cancelled or not, GC students remain rattled at the idea. With plans to either petition, run away or buy a new wardrobe, these students will find a way to personally save their spring break.