GC Volleyball Star Closes in on PBC History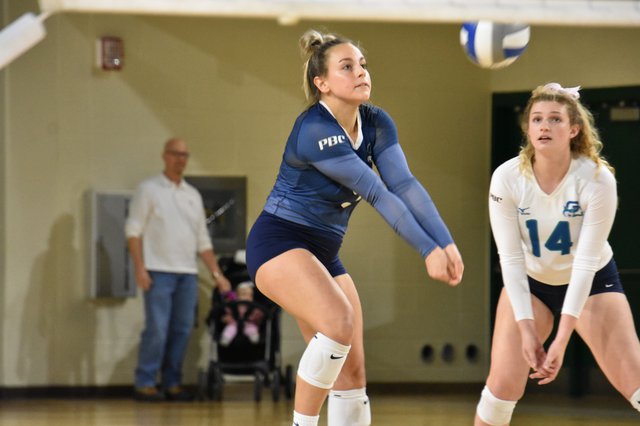 GC Volleyball Star Closes in on PBC History
Women's volleyball standout Jordyn Moellering holds the record for most digs in GC history.
The defensive specialist has tallied 1,383 digs throughout her GC career. She needs 232 more to cement her place in the PBC top 10 all-time digs list.
Heading into her senior season, Moellering refuses to let the uncertainty of COVID-19 affect her outlook on the team's spring campaign.
"COVID hasn't really affected my outlook on the season as I'm still going to work my hardest and go for it every day," Moellering said.
However, the pandemic has put Moellering at a slight crossroads as she has not decided whether she will use her extra year of eligibility. Although she majors in management, she may also pursue a career in volleyball coaching after college.
Moellering's hard work has not gone unnoticed by her coaches and teammates. Head coach Gretchen Krumdieck recognized her as one of the best defensive players she has ever coached.
"Jordyn is very driven and very determined," Krumdieck said. "Her work ethic is amazing when it comes to lifting and conditioning. She came back in the best shape ever out of COVID."
On top of Moellering's consistent dedication and drive, Krumdieck commended the libero's volleyball IQ for allowing her to produce such a legendary college career.
As a libero, Moellering almost always finds herself on the floor as one of the team's most important pieces.
"We set up our defense around what her range is, so we basically funnel everything toward her," Krumdieck said.
As long as the delayed volleyball season commences in the spring, Moellering's coaches and teammates believe she will break into the PBC top 10 all-time digs list. The PBC may require a limited schedule for sports teams, solely consisting of conference matchups.
Fellow defensive player Emily Pope knew Moellering before she became her Georgia College teammate. As former club teammates, Pope and Moellering have already played together for almost four years now.
"Jordyn will for sure get into the top 10," Pope said. "She will do anything she sets her mind to. If Jordyn wants it, she will get it."
As a libero, Moellering holds a key responsibility on the court. Pope emphasized the importance of her teammate's leadership, explaining the motivation she infuses throughout the team.
The GC record-breaker makes sure to hold herself and her team accountable. Her consistent energy represents the vocal leadership she always brings to the court.
Moellering's path to the top of the GC volleyball ranks has embodied the motivation and tenacity she displays on a regular basis.
Although she started in her freshman year, Moellering did not become the team's libero until her sophomore season. To break a school record before the start of her senior year has proved an incredible feat in itself.
"Already breaking the school record in my junior year was really cool," Moellering said. "I can add on to it in my senior year, which is great."
Moellering credited her coaches and teammates for their constant support and motivation.
"Coach Krumdieck has been a great support system for our team," Moellering said. "The coaches have been wonderful, and my teammates are awesome. I think the best part of our team is that we all have high expectations for each other."
Moellering will be one to watch in the spring as she closes out her illustrious volleyball career in pursuit of PBC history.